B3 Bean Bag Bucketz Toss Game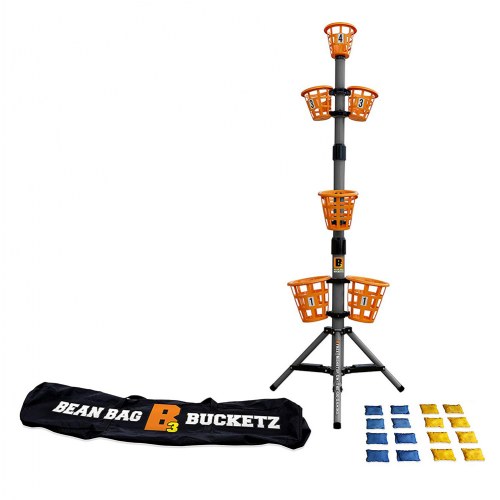 8 years & up. Bean bag toss with a challenging twist!
The Bean Bag Bucketz game combines classic concepts from games like bean bag toss and frisby golf to make a new and exciting point driven game. Set up the stand on any flat surface, attach the numbered buckets to the connectors up and down the stand, and arm your teams with 8 bean bags each. Teams throw all 8 bean bags into the buckets each round to rack up points.
Each bucket is worth a different point amount. Whichever team has the most points at the end of each round wins that round and keeps their points. The first team to make it to a 21 wins! For 2 or more players. Assembled size: Approximately 60"H.
Included:
8 Yellow bean bags and 8 blue bean bags
7 Buckets worth 1 to 4 points each
Easy to assemble stand with bucket connectors
Sturdy carrying bag for easy game storage