Katie Woo Book Collection - Set of 8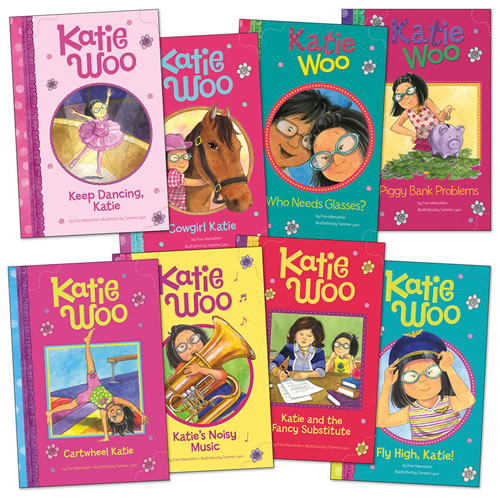 Katie Woo is a Young Girl with Many Interests

Grades K - 2. Katie Woo is a spunky, sassy, and stylish schoolgirl who readers will fall in love with. These early chapter books are perfect for explaining life changes, family celebrations, and growing up. Award-winning author Fran Manushkin outdoes herself with these fun, lighthearted stories. Set of 8 paperback books.
Titles Include:
Keep Dancing, Katie - For little girls with ballet dreams, Keep Dancing, Katie is a delightful reminder of what really matters. Katie Woo loves to dance, but when a new girl, Mattie, joins her dance class, dancing just isn't as much fun. Mattie can spin faster and jump higher than Katie, and Katie is jealous. Will Katie ever have fun at dance class again?
Cowgirl Katie - Katie is crazy for horses! She pretends her bike is a horse, but its missing a mane and tail. She rides a horse on a merry-go-round, but its mane and tail were just made of wood. But one day, her dad surprises her with a trip to a ranch, where she'll get to ride a real horse. Finally Katie's horse dreams are coming true!
Who Needs Glasses? - Pedro has new glasses, but he does not like them. When he pretends to lose them, Katie shows him why glasses are important.
Piggy Bank Problems - Even though Katie's dad works at a bank, she prefers to keep her money in her piggy bank. But what happens when she drops her piggy and it breaks?
Cartwheel Katie - When Katie sees gymnasts on TV, she thinks the girls are so cool! So she jumps at the chance to take a gymnastics class. But it turns out that somersaults and cartwheels aren't as easy as they look. Will Katie ever learn to land on her feet?
Katie's Noisy Music - Like many little girls, Katie Woo loves music, and she'd like to make music of her own. She enjoys all of the instruments her dad and friends play, but none seem right for her. What instrument will match the music in Katie's heart?
Katie and the Fancy Substitute - Sassy and sweet schoolgirl Katie Woo is always excited to go to school to see Miss Winkle. Except one day, Miss Winkle is sick and fancy Miss Bliss is there, teaching in her place. Katie wants to impress her new teacher, but no matter what she does, she just can't get it right. Will Miss Bliss ever like Katie?
Fly High, Katie! - Katie's going to Florida to see her grandma, and she gets to take an airplane to get there! She's never flown before, but JoJo says it is fun. But after waiting in long lines, losing her teddy bear, and having juice spill on her lap, Katie wonders if flying isn't just for the birds.