Nemours® Reading BrightStart! Complete Program for Early Literacy Success: Level 1 Manipulatives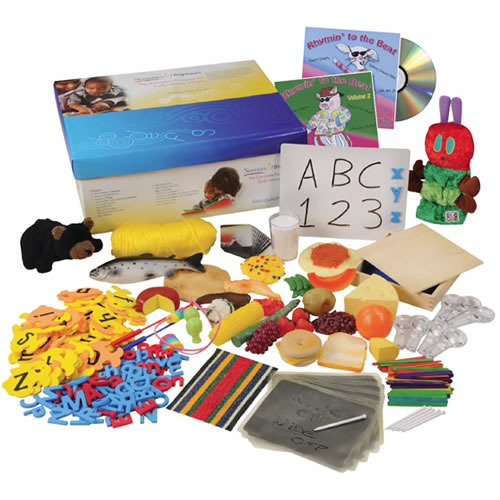 Each manipulative in this kit ties directly to one or more lessons in the Nemours® Reading Bright Start! Program, helping children learn with fun, motivating, and developmentally appropriate activities. An essential component to the Nemours® Reading BrightStart! Program for Early Literacy Success,the kit includes magnetic whiteboards, magnifying glasses, magnetic letters, craft sticks, music CDs, puppets, and other items that promote literacy in the early years.
Learn more about Nemours® Reading BrightStart!
More Nemours® Reading BrightStart! Products
In this free webinar, Nemours instructional designer Vera Meyerholtz presents "Growing Happy Readers: Ensuring Long-Term Success with Effective Instructional Practices." Watch and join our Classroom Management for Early Learning community for a free CE certificate.
Nemours BrightStart! professional development training opportunities are designed to empower educators with practical, effective information that enables them to address the real-life challenges of teaching pre-reading.
The workshops, led by professionals who are specially trained by Nemours BrightStart! in early childhood education and early literacy, offer participants proven methods for teaching students with difficulties in pre-reading.
Current workshops include:
Enhancing the Literacy Center
Reading Aloud to Young Children
Emergent Writing
Dyslexia 101
Basics of Multisensory Instruction
Phonological and Phonemic Awareness