Cool Robots Books - Set of 4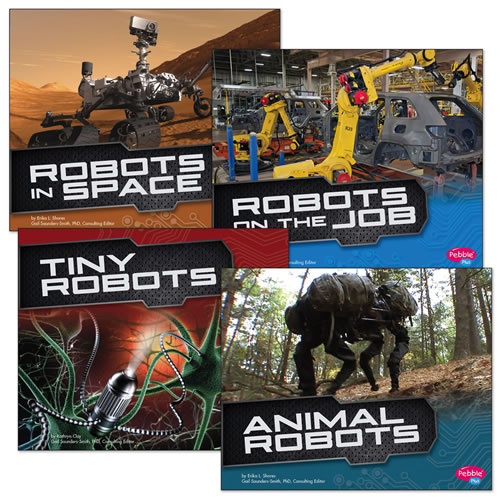 Learn All About Robots and What They Can Do
Grades K - 2. Science, engineering, and technology are the driving forces behind robotics. The youngest readers get an early introduction to STEM in the cool Robots set. From a robotic pet dinosaur to the Mars rover, robots do all kinds of amazing work. Each book has large, colorful photographs of the featured robots. Set of 4 paperback books have 24 pages each.
Book Set Includes:
Robots in Space - Space robots orbit Earth, work inside the space station, and explore Mars.
Robots on the Job - Robots build cars in factories, perform surgeries in hospitals, and take pictures while flying overhead.
Tiny Robots - Tiny robots include everything from a wall climbing microbot to a nanobot that goes inside the human body.
Animal Robots - Animal robots include everything from a pet dinosaur to a buzzing hummingbird to a floating jellyfish.