I Wear A Mask Demo Kit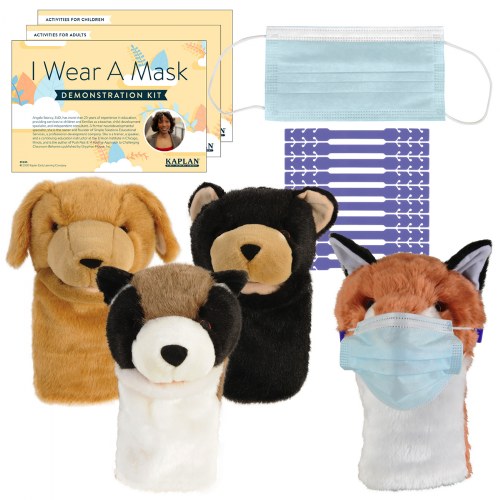 Support young children's understanding of how to properly use face masks with the I Wear A Mask Demonstration Kit. Featuring plush animal puppet friends, this kit provides educators and caregivers with an approachable and easy-to-use visual prop for demonstrating the correct way to wear masks in the classroom. Teachers and children alike will enjoy giving their puppet friends voices, practicing the proper way to put masks on and take them off, and engaging in imaginative play centered around wearing masks.
Complete with activity cards written by social-emotional expert Dr. Angela Searcy, and filled with interdisciplinary, hands-on learning activities and helpful strategies for adults, this kit is the perfect way to make masks less scary to children while supporting their social-emotional development.
Includes:
Set of 50 child-sized masks
Set of 10 mask clips
4 Animal Puppet Friends (puppets may vary)
Mask activity cards

Angela Searcy, EdD has more than 25 years of experience in education, providing services to children and families as a teacher, child-development specialist, and independent consultant. A former neurodevelopmental specialist, she is the owner and founder of Simple Solutions Educational Services, a professional-development company. She is a trainer, a speaker, and a continuing-education instructor at the Erikson Institute in Chicago, Illinois, and is the author of Push Past It! A Positive Approach to Challenging Classroom Behaviors published by Gryphon House, Inc.