Nemours® Reading BrightStart! Complete Program for Early Literacy Success: Level 1 Lesson Plans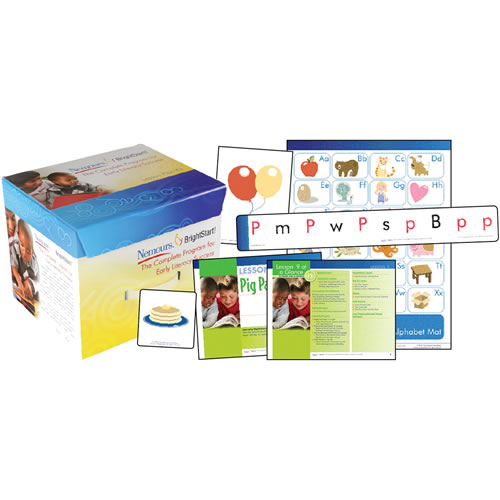 An essential component of the Nemours® Reading BrightStart! Program for Early Literacy Success, lesson plans include a variety of components, including Learning Objectives, Read Aloud, Teacher-Directed Practice, Family Connections, Reproducibles, and much more!
This kit includes:
20 scripted lesson plans
Related materials necessary to complete each lesson
Learning Objectives tied to state and national standards.
Observation Sheets to record each child's progress -- available online
Family Connection strategies to keep families informed about their child's progress, also available in Spanish
A Teacher's Guide that offers in-depth instruction for how to use the curriculum
Technical Manual with research data and RTI supports -- available online
Learn more about Nemours® Reading BrightStart!
More Nemours® Reading BrightStart! Products
Downloads
In this free webinar, Nemours instructional designer Vera Meyerholtz presents "Growing Happy Readers: Ensuring Long-Term Success with Effective Instructional Practices." Watch and join our Classroom Management for Early Learning community for a free CE certificate.
Nemours BrightStart! Level 1
Description:
This training discusses the essential components of Nemours BrightStart! The Complete Program for Early Literacy Success: Level One and the developmentally appropriate instructional practices that are embedded within. During this training, participants will:
Become familiar with critical skills of early literacy (Print Awareness, Letter Knowledge, Oral Language, Phonological Awareness, and Emergent Writing)
Receive training on explicit, systematic, and multisensory instruction
Learn how to move diverse young learners toward reading readiness
Objectives:
The participant will…
Describe the role of the Nemours BrightStart! Program within a comprehensive classroom curriculum
Discuss the impact of explicit, systematic and multisensory instruction
Demonstrate fidelity through practice with the program materials
Differentiate program instruction by implementing specifically designed "Adaptive" and "Accelerated" strategies
For more information on this or other KAPLAN professional development options, please contact us at 800.334.2014, ext 3252 or [email protected].