Understanding Feelings and Developing Emotional Intelligence Learning Kit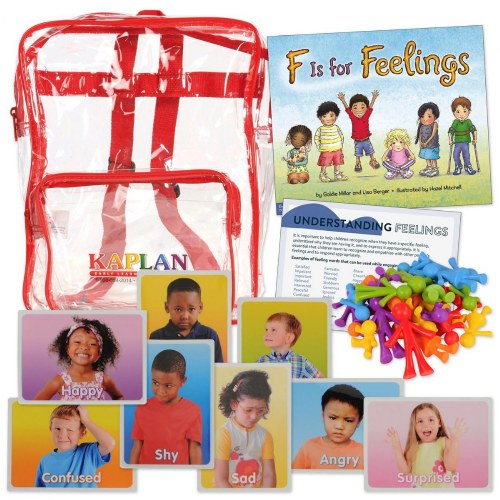 3 years & up. This social and emotional take-home kit invites families to join together in understanding and identifying emotions. Kit includes a book, learning materials, and activity card.
Includes:
F is for Feelings Paperback Book –this friendly and positive picture book uses an alphabet-book format to share and reinforce emotional language and the ideas that while some feelings are more comfortable than others, all emotions are natural and important
All About Me Family Counters – children can learn about themselves and their families, as well as counting, patterning, and matching

Emotions Magnets (Set of 8) - magnets show a range of emotions on children's faces, allowing children to experience and identify with others

Activity Card
Clear Backpack features two pockets with zippered closures and adjustable shoulder straps
*Note: Components may change occasionally due to availability. We will only substitute components with developmentally appropriate items that serve the same purpose.