Jurassic Adventure STEM Learning Interactive Take Home Activities Kit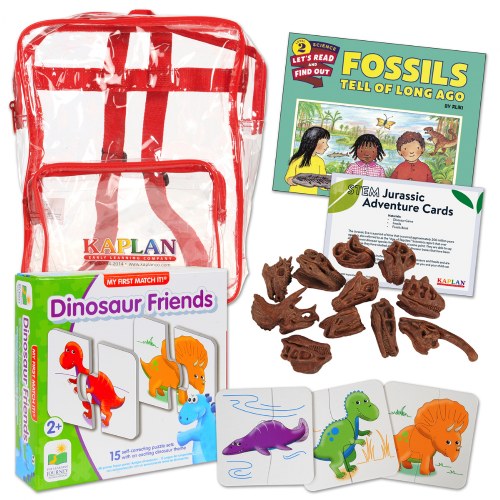 3 years & up. This interactive, take-home, STEM Adventure kit invites families to participate in enjoyable STEM based learning together. Kit includes a book, learning materials, and activity card.
Includes:
Fossils Tell of Long Ago Paperback Book – describes the different ways fossils are formed and what they tell us about life on Earth long ago, also includes an activity guide so kids can create their own fossils

Dinosaur Skulls Toob – set of 11 dinosaur skulls: Carnotaurus, Velociraptor, Brachiosaurus, Oviraptor, Nigersaurus, Diplodocus, Dilophosaurus, Dracorex, Triceratops, Tyrannosaurus Rex, and Parasaurolophus
My First Dino Match Game introduces different types of dinosaurs with friendly, colorful pictures that create ample opportunity for conversation and learning
Activity Card
Clear Backpack features two pockets with zippered closures and adjustable shoulder straps
*Note: Components may change occasionally due to availability. We will only substitute components with developmentally appropriate items that serve the same purpose.