Magna-Tiles® 32-Piece Clear Colors Set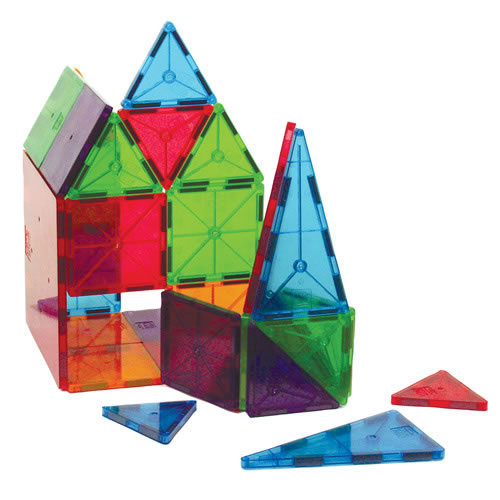 3 years & up. For young minds taking flat objects and constructing 3-D objects is a new and exciting discovery, teaching spatial relationships, math, logic, and problem-solving through creative building!
Features:
Tiles are constructed in bright translucent colors with magnets on all sides
The secret is the unique ability to attract even when they are flipped
Build creations on a light table to see the colors illuminate
Perfect for introducing children to simple math, geometry, and science
Magna-Tiles® are unbreakable
All Magna-Tiles® sets are compatible
32-Piece Set Includes:
14 Small Squares
2 Large Squares
8 Equilateral Triangles
4 Right Triangles
4 Isosceles Triangles
Eight Ways to Use Magna-Tiles in the Classroom→
Read our Insights and Inspirations article for a list of fun ways Magna-Tiles can be used as a versatile learning tool in the classroom.